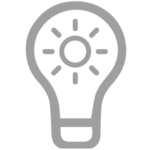 2500 cd/m² Brightness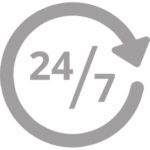 24/7 Usage
Plug and Play
Landscape or Portrait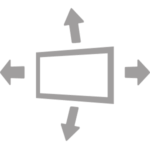 Wide Viewing Angle
Commercial Grade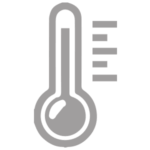 Smart Temperature Control System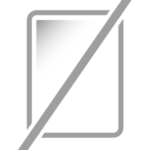 Ultra Resistant Blackening 110˚C
Eco-Friendly Power Timer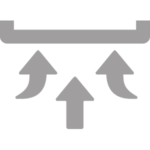 IPS Panel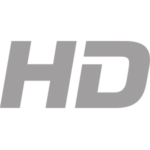 Full High Definition 1080p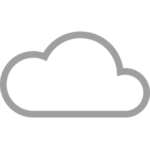 Optional Network Upgrade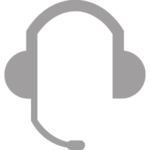 Lifetime Technical Support
3 Years Warranty

Ultra Resistant to Blackening
When dealing with direct sunlight most LCD panels will overheat and the blackening on the panel will occur, we use a special ultra-high brightness panel that can withstand surface temperatures up to 110˚C with no blackening defect occurring making this the number one choice for Digital Signage in window displays.
Commercial Grade Panel and Components
Fitted with a commercial grade panel, with a lifespan of 70,000 hours, and using high quality components ensures that the high brightness monitor displays can be in constant use 24/7.
Built-in Speakers
The Ultra High Brightness Professional Displays have two integrated slimline speakers for applications that involve an audio element.
Power Timer
The eco-friendly power timer allows you to assign daily or weekly on and off times for your screen. The ability to power on and off automatically means that the screen is only in use when it needs to be; improving your environmental efficiency.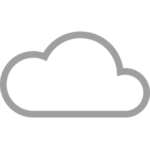 Optional Network Upgrade
For a small charge you can also upgrade your screen to be networked, allowing you to remotely update your screen via LAN, WiFi or 3G. To find out more about our Digital Signage CMS CLICK HERE.
46 Inch - Model: EK46INUHB
Display Area (mm)
1018.1×572.7
Display Area (inches)
40×22.5
Net Weight
28.05kg | 62lbs
Unit Size (mm)
1080.5×635.1×132.7
Unit Size (inches)
42.5x25x5
Gross Weight
31.6kg | 69lbs
Package Size(mm)
1220x781x278
Package Size(inches)
48x31x11
Power Consumption (w)
380
VESA Holes
600×400
Contrast Ratio
5000:1
Panel
Resolution
1920×1080
Colour
16.7M
Aspect Ratio
16:9
Blackening Defect Free
Up to 110°C (230°F)
AV Inputs
Audio
Audio Socket (3.5mm)
Enviromental
Operating Temperature
0°C to 50°C  (32°F to 122°F)
Storage Temperature
-30°C to 60°C (-22°F to 140°F)
Operating Humidity
10% to 80%
Storage Humidity
5% to 95%
Computer
Media Formats
Video (MPG, AVI, MP4, RM, RMVB, TS), Audio (MP3, WMA), Image (JPG, GIF, BMP, PNG)
USB
USB2.0 HOST (x2)
Media Resolution
1920×1080/1080×1920
GPU
Mali-T760 MP4 @600MHz
LAN
10/100M Ethernet (Network version screen only)
Internal Memory
6GB
RAM
2GB DDR3
Wi-Fi
802.11b/g/n (Network version screen only)
CPU
Quad-Core Cortex-A17@1.61GHz
ROM
8GB NAND
OS
Android 5.1.1
Graphic Engine
OpenGL ES 1.1/2.0/3.0/3.1, OpenCL 1.1, Renderscript, Direct3D 11.1
Accessories
Included
Scheduling Software, Remote Control, User Manual
55 Inch - Model: EK55INUHB
Display Area (mm)
1210×680.8
Display Area (inches)
47.6×27
Net Weight
36kg | 79lbs
Unit Size (mm)
1272.7×743.4×132.8
Unit Size (inches)
50x29x5
Gross Weight
44.15kg | 97lbs
Package Size (mm)
1420x891x295
Package Size (inches)
56x35x12
Power Consumption (w)
440
VESA Holes
600×400
Contrast Ratio
5000:1
Panel
Resolution
1920×1080
Colour
16.7M
Aspect Ratio
16:9
Blackening Defect Free
Up to 110°C (230°F)
AV Inputs
Audio
Audio Socket (3.5mm)
Enviromental
Operating Temperature
0°C to 50°C (32°F to 122°F)
Storage Temperature
-30°C to 60°C (-22°F to 140°F)
Operating Humidity
10% to 80%
Storage Humidity
5% to 95%
Computer
Media Formats
Video (MPG, AVI, MP4, RM, RMVB, TS), Audio (MP3, WMA), Image (JPG, GIF, BMP, PNG)
USB
USB2.0 HOST (x2)
Media Resolution
1920×1080/1080×1920
GPU
Mali-T760 MP4 @600MHz
LAN
10/100M Ethernet (Network version screen only)
Internal Memory
6GB
RAM
2GB DDR3
Wi-Fi
802.11b/g/n (Network version screen only)
CPU
Quad-Core Cortex-A17@1.61GHz
ROM
8GB NAND
OS
Android 5.1.1
Graphic Engine
OpenGL ES 1.1/2.0/3.0/3.1, OpenCL 1.1, Renderscript, Direct3D 11.1
Accessories
Included
Scheduling Software, Remote Control, User Manual
65 Inch - Model: EK65INUHB
Display Area(mm)
1429×804
Display Area(inches)
56×31.6
Gross Weight
67.45kg | 148.7lbs
Unit Size(mm)
1491x866x123.5
Unit Size(inches)
59x34x5
Power Consumption (w)
490
VESA Holes
600×400
Contrast Ratio
5000:1
Net Weight
56.1kg | 124lbs
Panel
Resolution
1920×1080
Colour
16.7M
Aspect Ratio
16:9
Blackening Defect Free
Up to 110°C (230°F)
AV Inputs
Audio
Audio Socket (3.5mm)
Enviromental
Operating Temperature
0°C to 50°C (32°F to 122°F)
Storage Temperature
-30°C to 60°C (-22°F to 140°F)
Operating Humidity
10% to 80%
Storage Humidity
5% to 95%
Computer
Media Formats
Video (MPG, AVI, MP4, RM, RMVB, TS), Audio (MP3, WMA), Image (JPG, GIF, BMP, PNG)
USB
USB2.0 HOST (x2)
Media Resolution
1920×1080/1080×1920
GPU
Mali-T760 MP4 @600MHz
LAN
10/100M Ethernet (Network version screen only)
Internal Memory
6GB
RAM
2GB DDR3
Wi-Fi
802.11b/g/n (Network version screen only)
CPU
Quad-Core Cortex-A17@1.61GHz
ROM
8GB NAND
OS
Android 5.1.1
Graphic Engine
OpenGL ES 1.1/2.0/3.0/3.1, OpenCL 1.1, Renderscript, Direct3D 11.1
Accessories
Included
Scheduling Software, Remote Control, User Manual