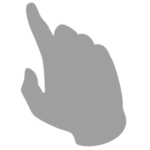 PCAP Touch
Android or Windows OS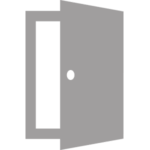 Internal
Locker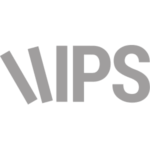 Commercial Grade
IPS Panel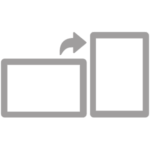 Landscape or
Portrait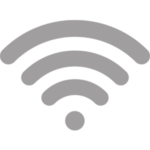 Integrated WI-Fi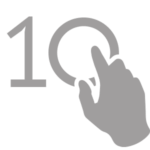 10 Touch Points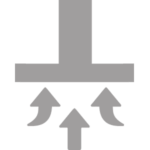 Rear Connections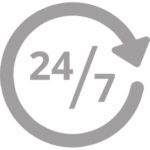 24/7 Usage
No External PC Required
Integrated Speakers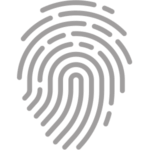 Anti Fingerprint/ Smooth Gestures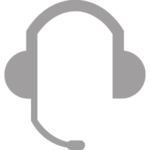 Lifetime Technical
Support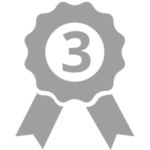 3 Years Warranty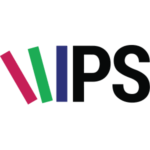 IPS Panel
Accurately displays image quality and colour depth at a 178° ultra wide viewing angle. There is no fall-off in colour accuracy and no diversion in contrast ratio at wide angles. From bright sunlight to the most challenging lighting environments these displays are designed to reproduce and maintain the ultimate colour temperature for lifelike images. The panel is also optimised for mounting in either landscape or portrait orientation.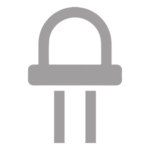 LED Backlight
The eco-friendly power timer allows you to assign daily or weekly on and off times for your screen. The ability to power on and off automatically means that the screen is only in use when it needs to be; improving your environmental efficiency.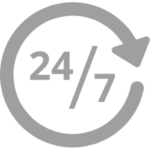 24/7 Usage
Built with commercial grade panel and components these displays are designed to run 24/7 in constant use; unlike domestic tablets. The panel also has a lifespan of over 70,000 hours of continuous use.

Landscape/Portrait Orientation
The 43" and 50" versions can be installed in portrait orientation as well as the standard landscape. This transforms the kiosk into an even more eye-catching display and makes it really stand out from the crowd.
Internal Locker
The touch screen kiosk is an all-in-one solution with the integrated PC with Windows and Android. However if you want to connect an external PC or media player there is a secure and discrete internal locker on the rear of the display that allows you to integrate such devices seamlessly. Simply connect your device to the screen via VGA or HDMI (for the video signal) and USB (for the touch functionality). The screen will then serve as your computer's interactive monitor. You can also extend the connections on your device, such as the USB ports, LAN port, Wi-Fi aerial and power cable to the external ports on the rear of the kiosk.

Rear Connectivity
Once your kiosk is in place you can use the ports on the rear of the base to conveniently connect your USB, Ethernet cable, power cable or Wi-Fi aerial direct to the Touch Screen. The rear connections work whether you are using the built in PC or a third party device inside the internal locker.
Touch CMS
The touch CMS (Content Management System) for our pcap touch screen kiosk is like the "brain" behind the interactive screen. It is a smart system that lets you control and change what appears on the touch screen. You can tap, swipe, or draw on the screen, and the CMS helps manage all the pictures and information that show up when you interact with it.
43 Inch - Model: EK43INTK
Display Area (mm)
942.5×530.5
Display Area (inches)
37.11×20.89
Gross Weight
81.6kg / 179.9lbs
Unit Size (mm)
1048.9×636.9×64.7
Unit Size (inches)
41.3×25.07×2.55
Package Size (mm)
Box 1: 1003x678x435
Box 2: 1180x772x230
Package Size (inches)
Box 1: 39.48×26.7×17.13
Box 2: 46.46×30.39×9.05
Panel/Mechanical
Resolution
1920×1080
Contrast Ratio
5000:1
Aspect Ratio
16:9
Colour
16.7M
Touch
Touch Technology
Projected Capacitive
Glass Hardness
7H minimum
AV Inputs/Audio
Inputs (when used as monitor)
HDMI, VGA, RS-232
Audio Input (when used as monitor)
Audio Socket (3.5mm)
Audio Output (internal PC)
Audio Socket (3.5mm)
Power
Input Voltage
AC110~240V (50Hz~60Hz)
Enviromental
Operating Temperature
0°C to 50°C (32°F to 122°F)
Storage Temperature
-30°C to 60°C (-22°F to 140°F)
Operating Humidity
10% to 80%
Storage Humidity
5% to 95%
Media Player
CPU
Intel® Atom™ (Quad-core) x5-Z8350 Processor (2M Cache, up to 1.92 GHz)
Hard Drive/Internal Memory (eMMC)
64GB
OS
Android 5.1.1
Windows® 8 /8.1 64-bit, Windows® 10 Pro 64-bit
RAM
4GB (DDR3L-RS 1600MHz)
USB
2 x USB 2.0
Other
No accessible buttons or controls
Instruction Set
64-bit
LAN
10/100/1000 Ethernet
Graphic Engine
Intel® HD Graphics 400 (8th Gen, Supports DirectX11.2, OpenGL4.4 and OpenCL 2.0)
Wi-Fi
802.11b/g/n
Accessories
Included
Remote Control, User Manual, Power Cable,
USB to USB Cable, Wi-Fi Aerial
50 Inch - Model: EK50INTK
Display Area(mm)
1076×606
Display Area(inches)
42.36×23.85
Gross Weight
91.1kg/200.84lbs
Unit Size (mm)
1186×716.6×65
Unit Size (inches)
46.7×28.2×2.5
Package Size (mm)
Box 1: 1003x678x435
Box 2: 1350x865x260
Package Size (inches)
Box 1: 39.49×26.7×17.13
Box 2: 53.15×34.05×10.24
Net Weight
81.5kg/179.67lbs
Panel/Mechanical
Resolution
1920×1080
Contrast Ratio
5000:1
Aspect Ratio
16:9
Colour
16.7M
Brightness (cd/m2)
450
Footprint
800×500
Touch
Touch Technology
Projected Capacitive
Glass Hardness
7H minimum
AV Inputs/Audio
Inputs (when used as monitor)
HDMI, VGA, RS-232
Audio Input (when used as monitor)
Audio Socket (3.5mm)
Audio Output (internal PC)
Audio Socket (3.5mm)
Power
Input Voltage
AC110~240V (50Hz~60Hz)
Enviromental
Operating Temperature
0°C to 50°C (32°F to 122°F)
Storage Temperature
-30°C to 60°C (-22°F to 140°C)
Operating Humidity
10% to 80%
Storage Humidity
5% to 95%
Computer
CPU
Intel® Atom™ (Quad-core) x5-Z8350 Processor (2M Cache, up to 1.92 GHz)
Hard Drive/Internal Memory (eMMC)
64GB
OS
Android 5.1.1
Windows® 8 /8.1 64-bit, Windows® 10 Pro 64-bit
RAM
4GB (DDR3L-RS 1600MHz)
USB
2 x USB 2.0
Other
No accessible buttons or controls
Instruction Set
64-bit
LAN
10/100/1000 Ethernet
Graphic Engine
Intel® HD Graphics 400 (8th Gen, Supports DirectX11.2, OpenGL4.4 and OpenCL 2.0)
Wi-Fi
802.11b/g/n
Accessories
Included
Remote Control, User Manual, Power Cable,
USB to USB Cable, Wi-Fi Aerial
55 Inch - Model: EK55INTK
Display Area (mm)
1211×682
Display Area (inches)
47.68×26.85
Gross Weight
99kg/218.25lbs
Unit Size(mm)
1319.6×790.6×65
Unit Size(inches)
51.95×31.13×2.5
Package Size (mm)
Box 1: 1003x678x435
Box 2: 1480x950x250
Package Size (inches)
Box 1: 39.49×26.69×17.13
Box 2: 58.27×37.40×9.8
Net Weight
88.15kg/194.34lbs
Panel/Mechanical
Resolution
1920×1080
Contrast Ratio
5000:1
Aspect Ratio
16:9
Colour
16.7M
Brightness(cd/m2)
450
Footprint
800×500
Touch
Touch Technology
Projected Capacitive
Glass Hardness
7H minimum
AV Inputs/Audio
Inputs (when used as monitor)
HDMI, VGA, RS-232
Audio Input (when used as monitor)
Audio Socket (3.5mm)
Audio Output (internal PC)
Audio Socket (3.5mm)
Power
Input Voltage
AC110~240V (50Hz~60Hz)
Environmental
Operating Temperature
0°C to 50°C (32°F to 122°F)
Storage Temperature
-30°C to 60°C (-22°F to 140°F)
Operating Humidity
10% to 80%
Storage Humidity
5% to 95%
Media Player
CPU
Intel® Atom™ (Quad-core) x5-Z8350 Processor (2M Cache, up to 1.92 GHz)
Hard Drive/Internal Memory (eMMC)
64GB
OS
Android 5.1.1
Windows® 8 /8.1 64-bit, Windows® 10 Pro 64-bit
RAM
4GB (DDR3L-RS 1600MHz)
USB
2 x USB 2.0
Other
No accessible buttons or controls
Instruction Set
64-bit
LAN
10/100/1000 Ethernet
Graphic Engine
Intel® HD Graphics 400 (8th Gen, Supports DirectX11.2, OpenGL4.4 and OpenCL 2.0)
Wi-Fi
802.11b/g/n
Accessories
Included
Remote Control, User Manual, Power Cable,
USB to USB Cable, Wi-Fi Aerial